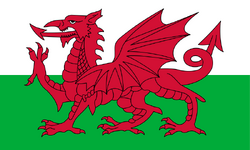 Wales is a country that is part of the United Kingdom. It has a population of around 3,006,400 people. Cardiff is the capital and largest city.
History of hockey in Wales
Edit
The English Ice Hockey Association (EIHA), which was founded in 1982, is the governing body of ice hockey in both England and Wales.
A Welsh team, the Cardiff Devils, who were founded in 1986, play in the Elite Ice Hockey League. They have won four British League Championships, and four British Play Off Championships. In addition. they've won the Autumn Cup in 1994, the Challenge Cup in 2006, and the British Knockout Cup in 2007.
The Welsh women's national team played two games between 2002 and 2004, one against England, and one against Scotland. They defeated England 4-1 and Scotland 7-0 in their only two games.
Ad blocker interference detected!
Wikia is a free-to-use site that makes money from advertising. We have a modified experience for viewers using ad blockers

Wikia is not accessible if you've made further modifications. Remove the custom ad blocker rule(s) and the page will load as expected.