The Swedish ice hockey championship (Swedish: Svenska mästare i ishockey) is a club championship awarded annually to the winning playoff team of the Swedish Hockey League (SHL), Sweden's premier ice hockey league. It was first awarded to IK Göta in 1922, the championship's inaugural year. The championship's present SHL format did not take into effect until the league was originally formed for the 1975–76 season. A team who wins the Swedish Championship is awarded the Le Mat Trophy. Djurgårdens IF holds the most titles in history with 16 titles. The most recent Swedish Champions are Växjö Lakers, who won their first title in club history in 2015.
Before 1953, the Swedish champions were determined through a standalone tournament, the Swedish Ice Hockey Championship, where teams could submit their participation. In other words, the leagues were not connected with the Swedish Championship during this period. Between 1953 and 1955, the winner was decided through matches between the winners of Division 1 Norra and Division 1 Södra. From 1956 to 1965, the Swedish champions was the winner of a second round group stage following Division 1. In the years of 1966 and 1967 a play-off was played between Division 1 teams and the 1968 season saw a return to second round group stage. In the 1975–76 season, Elitserien was started and the winner of Elitserien (later SHL) play-off became Swedish ice hockey champion.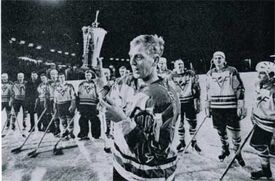 Previous winners
Edit
Title champions
Edit
Champions since the formation of the Swedish Hockey League (formerly named Elitserien) in 1975:
↑ No competition due to cold weather. Hammarby IF won the Svenska Serien season.
↑ No competition due to preparations for the 1949 World Championships. Hammarby IF won the Division I season.
↑ No competition due to preparations for the 1952 Winter Olympics. Södertälje SK won the Division I season.
Ad blocker interference detected!
Wikia is a free-to-use site that makes money from advertising. We have a modified experience for viewers using ad blockers

Wikia is not accessible if you've made further modifications. Remove the custom ad blocker rule(s) and the page will load as expected.