HC Diavoli Rossoneri Milano was an ice hockey team in Milan, Italy. They played in the Serie A, the top level of ice hockey in Italy.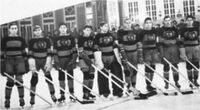 The club was founded in 1933 and won their first of four Serie A championships in 1935. They also won the Spengler Cup three times, the first of them being in 1934.
They merged with HC Milano in 1937, a merger which lasted until 1941.
After World War II the club became independent again. This lasted until 1956, when financial problems forced another merger with HC Milano.
Achievements
Edit
Serie A champion (4): 1935, 1936, 1949, 1953.
Serie A runner-up (3): 1937, 1947, 1952.
Spengler Cup champion (3): 1934, 1935, 1950.
References
Edit
External links
Edit
Ad blocker interference detected!
Wikia is a free-to-use site that makes money from advertising. We have a modified experience for viewers using ad blockers

Wikia is not accessible if you've made further modifications. Remove the custom ad blocker rule(s) and the page will load as expected.