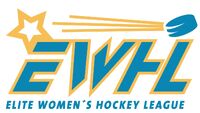 The Elite Women's Hockey League (EWHL) is an international competition for different European women's ice hockey clubs. Created in 2004 by International Ice Hockey Federation (IIHF), the EWHL consists from several countries of Central Europe and is played in parallel to national championships.
THE EWHL was created in 2004 on the same principle as the Interliga (men's Ice Hockey). For its first season, the EWHL featured teams from Austria, Hungary, Italy and Slovenia. During the following seasons, women's teams from Slovakia (2005), Croatia (2006) and the Czech Republic (2007) joined the league. In 2008, the Italian and Hungarian teams gave way to two clubs from Germany. From 2010-2012, the Women's Dutch National Team participated in the EWHL.[1]
THE EWHL was mostly played in a championship format with home and away matches, with the exception of the 2005–06 season where the teams were distributed in two regional divisions followed by qualifying rounds. For the 2010–11 season, the regular season will be followed by a play-off between the four teams at the top of the league table.
Championship
Edit
References
Edit
↑

The Netherlands wishing to offer more competitive matches to their top Women players. Source: EWHL Website
This article incorporates information from the French and German Wikipedias.
External links
Edit
Ad blocker interference detected!
Wikia is a free-to-use site that makes money from advertising. We have a modified experience for viewers using ad blockers

Wikia is not accessible if you've made further modifications. Remove the custom ad blocker rule(s) and the page will load as expected.