EK Engelmann Wien

City:
Vienna, Austria
League:
Austrian Hockey League
Founded:
1922
Home Arena:
Wiener Heumarkt
Franchise history
1922-1932:
Pötzleinsdorfer SK
1932-1957:
EK Engelmann Wien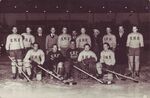 Eishockey Klub Engelmann Wien was an ice hockey team in Vienna, Austria. They played in the Austrian Hockey League, the top level of ice hockey in Austria.
The club was founded in 1922 as Pötzleinsdorfer SK and joined the Austrian Ice Hockey Federation (OEHV) in 1923.[1]
PSK finished second in the inaugural 1922-23 season of the Austrian Championship. They lost to Wiener EV in the final the following year. PSK won their first national championship in 1932, finishing two points clear of WEV in the final round.
They were renamed EK Engelmann Wien on November 21, 1932. Engelmann won the national championship in 1936 as EC KAC declined to travel to Vienna for the final. The club also won the 1938 Austrian Championship, the final season of play in Austria prior to the German Anschluss of the country
Engelmann won the 1939 German Championship, after Germany's annexation of Austria the previous March. After the war, the club won the first Austrian Championship to be staged, defeating SpV Strassenbahner Wiens in the final.
In 1948, Wiener EV and EK Engelmann Wien combined forces to create the Wiener Eissport-Gemeinschaft. Prior to its dissolution in 1951, WEG won three consecutive Austrian titles from 1949-1951.
After the disbandment of the combined club, Engelmann emerged as an independent organization once again. The club went on to capture the national championship in 1956 and 1957. After their latter title, they folded due to economic reasons.
Achievements
Edit
Austrian champion (6) :1932 (as Pötzleinsdorfer SK), 1936, 1938, 1946, 1956, 1957
German champion (1) : 1939
References
Edit
Ad blocker interference detected!
Wikia is a free-to-use site that makes money from advertising. We have a modified experience for viewers using ad blockers

Wikia is not accessible if you've made further modifications. Remove the custom ad blocker rule(s) and the page will load as expected.