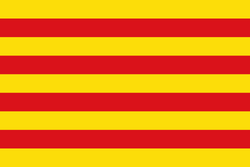 Catalonia is an autonomous community of northeastern Spain. It has a population of 7,535,251 people, and its capital is Barcelona.
History of hockey in Catalonia
Edit
The men's national played its first game in 2003 where they played an exhibition game against Belgium in Puigcerdà, Spain. Catalonia won the game 2–0. After a five year absence Catalonia to international play when they competed in a one game exhibition match against the Basque Country held in Vitoria-Gasteiz, Spain which Catalonia went on to win 5–3. The following year Catalonia competed in a second exhibition game against Basque Country. Catalonia lost the match 9–1 and also lost their first game in international competition.
The national team is controlled by the Federació Catalana d'Esports d'Hivern..
Ad blocker interference detected!
Wikia is a free-to-use site that makes money from advertising. We have a modified experience for viewers using ad blockers

Wikia is not accessible if you've made further modifications. Remove the custom ad blocker rule(s) and the page will load as expected.